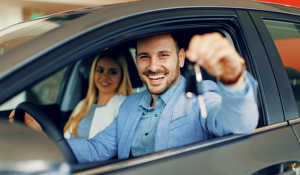 Adjust your car insurance policy to ensure you're properly covered
At some point during your journey of buying a new car, your excitement will turn to angst as you consider the implications to your car insurance policy. While your car insurance rates may indeed go up by adding a new car, there are also some coverage and timing implications that you'll want to consider in order to ensure you're getting the most out of your auto insurance. 
GAP Insurance
You might be offered GAP insurance at the dealership, but you're probably better off adding it to your insurance policy instead, it's often cheaper there. GAP insurance covers the difference between what your car is worth and the amount that you owe on your car loan. 
Since cars depreciate so quickly and car insurance pays the market value of your car, there is often a considerable difference between your claims check if your car is totaled and the amount you still owe on your loan. GAP insurance pays that difference. 
New Car Replacement Cost
If your car is brand new or only 1 or 2 years old, you might be able to add replacement cost to your car insurance policy. If you total your car, having this on your policy will guarantee that you receive your car's same year, make, and model as a replacement. 
Some companies will even give you a year's upgrade in model, so if you had a 2020 model, you would receive a 2021 version of the same car. This coverage will usually automatically fall off your policy after 2 or 3 years. 
When Do I Need to Tell My Insurance Agent? 
Chances are fairly high that you're not thinking of your insurance agent or company when you're driving your car off the lot. Fortunately, this is okay. Personal auto insurance gives you some time before you have to update your policy, unlike many commercial auto policies. 
You do have some automatic coverage on your new car, but each company has their own rules and timeframes. 
If you're

replacing

your current car with a new one, you may actually have automatic coverage for the rest of your policy period. However, you'll have the same coverages and deductibles that your old car had, unless you update it. If you don't update the policy by the time your renewal comes around, you won't have any coverage at all. 

If you're adding a new car but not replacing an older one, you typically have between 14 and 30 days to get it onto your car insurance policy. Until you do, you'll have the same coverages as your other vehicles, with coverage defaulting to the broadest coverage you have on your current policy. This means that if you don't have comprehensive or collision on any of your current vehicles, you won't have any physical damage coverage on your new car until you add it to your policy. 
Considering all of that, it's always recommended to add your new car to your policy as soon as possible, in order to ensure that you have the proper insurance coverage in place, because if you do have a claim and that car isn't on your policy, you may be on the hook for more than you thought. 
Keeping Costs Down
Buying a new car can definitely cause an increase in your car insurance rates, but there are some things you can do to help offset the higher cost. 
Raise your deductibles.

If you're used to carrying low deductibles such as $250 or $500 on comprehensive and collision coverage, consider raising it to $1,000. Yes, you'll have to fork out more money if you have a claim, but the savings in your premium can make up for that. 
Enroll in telematics.

Most car insurance companies offer some type of drive tracking discount, which could result in a 5% to 25% discount, with most people seeing a 10% to 15% discount for driving safely. 
Check your other cars' coverages.

If you have other vehicles on your policy and they are starting to get older, consider dropping at least collision coverage from them if they aren't worth as much anymore. 
Key Takeaway
Buying a new car can be exciting, but can also be costly between the higher cost of the car and higher insurance rates. There are ways to lower your car insurance payments with a new car, though it might not fully offset your higher rates. Even though you do have some automatic coverage for a short amount of time, it's always best to add your new car to your car insurance policy as soon as possible in order to ensure the proper coverage.