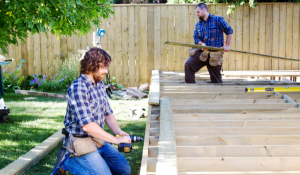 Summer is the most common time for home improvement projects. People have more time on their hands and the weather is nicer. These projects might improve the look and feel of your home, but did you know they also might impact your homeowner's insurance?
As you complete your home improvement projects, telling your friends, family and social media followers is not all that you should do. Your insurance agent should be one of the first people you tell when the project is completed. The reason being is that these projects can add value to your home.
Here are some home improvement projects that you should let your insurance agent know about…
Digging a pool
Finishing your basement
Replacing a roof or siding
Adding a deck
Addition to your home that adds square footage
Although these are just a few upgrades that your agent should know about, if you finish a project and are not sure if your agent should know, feel free to give them a call!
How can these projects affect your homeowners' insurance?
Home improvement projects can add to the cost it will take to re-build your home. This is the main reason you have an insurance policy for your home, to either repair or re-build your home in the event of a disaster. You want to make sure the FULL cost to re-build your home new is covered in your policy.
These projects can also impact your homeowners' insurance policy limits. Policy limits are exactly what they sound like, the amount your policy will cover up to a certain dollar amount. There can be different policy limits within your homeowners' policy. For example, if you add a pool, your agent might recommend increasing the amount of liability coverage you have if people are coming over to swim more often.
While these may seem like minor adjustments to your home, there is a risk of being underinsured at the time of a claim which could cost you more out of pocket. As you work on those summer home improvement projects, be sure to let your agent know! Contact us at 800-927-7562 or send us an email to service@barneyinsurance.net.