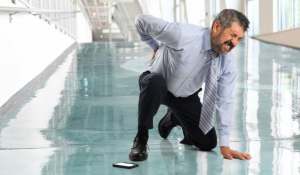 The standard commercial insurance policy that all businesses should have
If you're a new business owner or getting ready to start your own business, you've no doubt heard of general liability insurance. Besides the incorrect idea that it covers you for everything, what is general liability insurance exactly, and why does your business need it?
What is general liability insurance?
General liability insurance is the standard liability coverage that covers businesses. Each type of insurance policy has its own form of liability, such as personal liability on a homeowners policy or auto liability on car insurance. General liability is the broad type of liability coverage for businesses.
However, it doesn't cover your business for everything. Entire text books can be written about what general liability covers you for and what it doesn't cover you for, but the key word in liability is negligence. If your business is negligent for someone else's injuries or property damage, then you might have coverage. Negligence is similar to an accident and simply means that your business was responsible for but didn't intend to cause any harm.
General liability covers you for negligence claims of bodily injury and property damage that happen on your premise (the location of your business) or in the operation or completed operations of your business. This usually includes liability claims related to completed products, such as for a manufacturing company who makes toys.
What general liability doesn't cover
Despite the word 'general' in its name, general liability doesn't cover your business for every potential liability claim. It doesn't include coverage for intentional acts, and if there's ever any duplicate coverage between general liability and any other commercial insurance policy. Below are a few examples:
Commercial property covers your buildings, inventory and business contents.
Commercial auto covers your vehicles and liability related to your vehicles.
Workers' compensation covers employees' injuries that happen in the course of employment.
Employment practices liability covers wrongful termination, sexual harassment, and other workplace related claims.
Cyber liability covers cyber attacks and the reputational harm that can arise from the various types of cyber exposures.
Professional liability covers your business for claims related to giving the wrong type of professional advice or services, such as if you're a consultant, therapist, attorney, or financial planner.
General liability should be a part of your business insurance package as it is a crucial coverage to include.
Why do I need it for my business?
General liability insurance is the base insurance for your business. Business partners like lenders, vendors and clients will likely require you to have this coverage in place.
Having general liability insurance in place can provide your business with the freedom to operate as it should, with liability coverage in place just in case the unexpected happens.
Let our agents review your business insurance package to make sure you are covered for any and all scenarios that may occur. Connect with us.