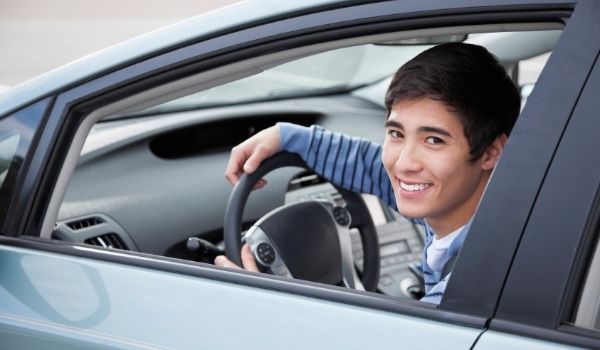 For most teens, learning to drive is about gaining freedom. So no more chauffeuring them around for you. But as a parent, you know that there is a lot of responsibility that comes along with driving.
Take this opportunity to teach your new driver about the responsibilities of driving – one of them being insurance.  Not sure what to say about insurance? Relax—we have you covered. Keep reading for a 4-point conversation guide to help you talk with your teen about car insurance.
Here's a quick 4-point guide to help your teen driver understand car insurance
1. What is car insurance? What does it do?
Explain to your teen that insurance exists to protect you if something bad happens. Specifically, it helps cover the costs when those bad things are expensive. You never know when a bad thing might occur, no one plans on it, but you can't ignore it.
In the case of driving, you get insurance when you start driving to protect you if you're involved in an accident. Depending on the type of insurance policy you have, it will pay for the costs to fix a wrecked car, damage to the property of others or medical bills from an injury that happened in the accident.
Though some types of insurance are optional, auto insurance is not; it's required by law.
2. How do you get car insurance?
Insurance policies are purchased with the help of an insurance agent.  The agent researches policies for you and comes back with options and prices.
3. How much does car insurance cost?
Insurance costs vary depending on a lot of different factors, but one general rule always applies: teens are new to driving, they're more likely to make mistakes and have accidents than people who've been driving for a long time. For this reason, car insurance costs more for teen drivers.
There are ways that teen drivers can save money on car insurance. There are discounts for things like good grades, drivers training, even new devices that follow and record your driving habits that give great discounts. What makes the rate higher? Tickets and Accidents increase rates.
Parent note: This is a great time to explain to your teen driver that you are adding them to your policy at an increased cost to you. They can help keep the rate down with keeping good grades and a clean driving record.
Idea to give your teen real-life practice: together with your teen contact your agent about adding them as a driver.
4. What are the different types of car insurance?
There are many different types of auto insurance. Here are common pieces of a policy:
Liability coverage – required in most states
Liability coverage protects you from claims and lawsuits that might occur when you are the cause of an accident. In other words, when you make a mistake and cause an accident, liability coverage helps pay to fix your victim's car and/or cover their medical expenses if they were injured. Without liability coverage, you would have to pay for these expenses by yourself, plus the costs of a potential lawsuit if you were sued.
Collision – not required by law 
Collision coverage helps pay for repairs or to replace your car if you get into an accident. When you take out a loan to buy a car, the bank or lender will often require you to have collision insurance until the loan is paid off. They do this to protect themselves from losing money on your loan.
Comprehensive – not required by law 
Comprehensive coverage exists because cars can be damaged by things other than accidents. For instance, it pays for repairs or replacements for hail, theft, fire, and flooding. Like with collision coverage, a bank or lender might require you to buy comprehensive insurance until your car loan is paid off.
Uninsured/underinsured motorist
Some states require you to have insurance that covers your medical bills or lost income if you are injured in an accident by a driver who was driving illegally without insurance (aka uninsured). Quick online research will tell you if your state requires this insurance, or talk to an insurance agent.
Sometimes you might hear the term "full coverage" for car insurance. Full coverage usually means that the driver has purchased liability, collision, and comprehensive insurance for their car. They are fully covered for most bad things that could happen.
Lastly, here's a final common question that comes up a lot about car insurance:
If a friend is driving my car and they get into an accident, does my insurance have to pay? Generally, yes. Car insurance usually covers the car, not the person driving the car (hence the reason we call it car insurance instead of driver insurance). However, you are not personally liable for the accident, whereas your friend is. Insurance can get complicated in these situations so unless it's an emergency, it's recommended that you do not let other people drive your car.
Have questions about insuring your teen driver? We'd love to help! Email us at service@barneyinsurance.net with any questions or fill out this 10-second quote form to explore your policy options.