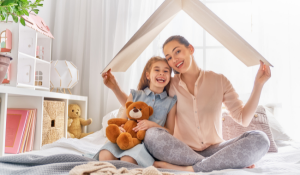 Go beyond the basics with these key coverage options
Home insurance policies have come a long way since when they first covered only fire! But they still aren't designed to cover everything, and there's a few types of coverage options in particular that you might want to add onto your homeowners insurance policy. 
Water Back-up Insurance
Damage from water is never covered under your standard home insurance policy. The most common type of coverage is water back-up, sometimes called sewage back-up or sump-pump back-up. This covers your home if you have water damage from water backing up through the drain or a sump-pump failure. 
If you have a basement, especially a furnished one, this coverage can be critical because the damage from flooded basements can easily cost over $10,000 to repair. Water back-up coverage typically starts at $5,000 of coverage and goes up in $5,000 increments from there. 
Flood Insurance
While water back-up coverage covers water that originates from inside your home, it won't cover floods, which are basically defined as water coming from the outside. You probably know that if you live in a floodplain because you may be required to buy flood insurance. If you aren't required but live in a low-lying area that could possibly flood, you might want to consider buying flood insurance. 
Coverage typically comes with a high deductible, but it provides you with coverage that you can't get through any other type of insurance add-on. Rates will be largely based on your floodplain status. If you do live in a flood-prone area, a flood insurance policy could cost you the same or more than your homeowners insurance policy, mainly because it's all but guaranteed to pay out during the next flood. 
Earthquake Insurance
Earthquake is another natural disaster that isn't covered under standard homeowners insurance. Part of the reason that floods and earthquakes aren't covered is that they are both large-scale disasters that affect a large number of homes in a small area, which makes it difficult for a private company to shoulder the cost of paying for those claims. 
Most companies do offer earthquake coverage as an add-on to your current home insurance policy. Similar to flood insurance, the rates will largely depend on whether or not you live in an earthquake-prone area. It typically has a high deductible, even higher than flood insurance, but could be worthwhile if you live in a quake zone. 
Personal Cyber Insurance
Insurance companies are starting to offer cyber insurance as an endorsement or add-on to your homeowners insurance. Cyber attacks have become fairly well-known in the business space, but they are increasingly happening to individuals as well. 
Personal cyber insurance will cover your losses from things such as malware, cyber extortion, and online fraud. They typically cover anything in your home that's connected to the Internet, including smartphones, smart appliances, security systems, and even smart thermostats. 
Inland Marine Insurance
Inland marine insurance is the term that's commonly used to describe special, high-value items that have specific coverage on your homeowners insurance. Typical items include jewelry, guns, chinaware, and electronics. You can schedule these items specifically for coverage on your home insurance policy. 
There are a number of benefits to doing so:
Scheduling expensive items normally comes with a $0 deductible, which means you won't have to pay anything if you have a claim. 

You can also determine the exact value of the item and list it on your policy. This avoids a potential argument over an item's value if you didn't schedule it. 

Scheduling items gives you broader coverage that includes "mysterious disappearance", which is the insurance industry's term for losing something. 

Standard home insurance policies always have a specific limit for theft of certain items, including jewelry and firearms which is usually $2,500 in coverage. Scheduling helps ensure you will receive the full value of these items if they're stolen.  
Key Takeaway
Buying a regular home insurance policy might not be enough to fully protect your home. There are certain insurance options that you'll need to add onto your base policy to have any type of coverage. While these do cost more, it's still a fraction of the cost compared to the cost of a claim from something like a flood or earthquake.
Reach out to us to find out of your home is fully insured in the event of a total loss.