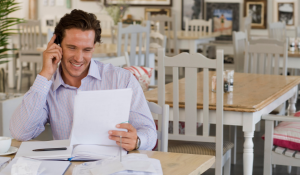 Owning and managing a restaurant definitely comes with its ups and downs, but don't let your insurance policy be one of those downs. As insurance agents we understand your business so you don't have to understand ours. We know the coverages that your business needs to keep it running smoothly. Here are some insurance coverages and resources that restaurant owners often overlook when purchasing their business insurance policy.
#1 Cyber Liability Insurance
If your restaurant has an online website then you should probably get this coverage. Claims involving website fraud, ransom and credit card theft have become more and more prevalent over the past few years.  These losses do not fall under your General Liability coverage, but coverage is available through a separate Cyber Liability Policy.  These claims can be costly, so it is important to discuss the need for this coverage as well.
 #2 Employment Practices Liability
Another area that is often overlooked is the need for an Employment Practices Liability policy.  This helps protect your business in claims made because of unfair hiring/firing practices, sexual harassment in the workplace and others brought forth by current and former employees. Various limits of coverage are available to help protect you in the event a claim is presented.
 #3 Business Income Protection
Insuring your property, contents, vehicles and other tangible items is always the first thing a business owner thinks about.  But what happens to your business income in the event that you have a major loss and are unable to stay open until repairs are made?  Adding this coverage to your business policy will replace any lost income that was a result of an event that put you temporarily out of business.
 #4 Loss Control Resources
Nearly every insurance company has a Loss Control Department. They will come out and walk through your property to help determine where there may be issues that could lead to potential claims. BUT, they also provide valuable resources that very few business owners take advantage of.  They can assist with assembling employee safety manuals, provide videos and data for safety meetings and assist you to find the best ways to operate your business most efficiently without sacrificing the safety of your employees or your customers.
 #5 Umbrella Liability Coverage
One of the largest potential claims a business owner might face is a major liability loss. For example, someone getting injured on your property or even as the result of an auto accident.  The purchase of an Umbrella Policy extends the protection provided by both your business liability protection as well as your auto liability and workers compensation coverage in the event of a large claim.
Are you fully covered for any and all scenarios that may occur at your place of business? Claims can be costly, so it is better to be over prepared than under prepared. You also should be taking advantage of the additional resources provided by your insurance company.
You have put a lot of time and money into building this establishment so let us take care of insuring it properly. Connect with us today.